You can filter testimonials by type by clicking the options below.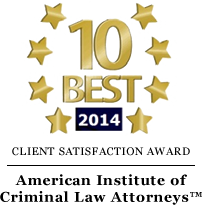 The Attorney to Choose
When you need a strong capable attorney to represent your legal interest, JohnPaul Ivec is the attorney to choose. I know that every client and every case is important to him. I know he will work earnestly to promote your interest.
- Andrew Ben Boyer, Divorce Lawyer in Shorewood, IL
I could not have picked a better attorney!
Mr. Ivec is the perfect no nonsense attorney. Although I was not recommended to him, I would recommend him for any and all services that he provides! I had some financial issues and things got out of my control, and Mr. Ivec still took care of me. This is not the reason I would recommend him, but his demeanor and professionalism is unrivaled. If I ever need an attorney again for any reason, even if it is not in his field, I am going to call him first in order for him to recommend me the direction to go in.
- Keith M., DUI Client
Conscientious, detail oriented attorney
I have worked with and against John Paul Ivec for over 15 years. He is a conscientious, detail oriented attorney who you can be sure will do a thorough job in whatever type of matter you bring to him.
- Scott Delaney, DUI and DWI Attorney in Joliet, IL
Excellent Representation
John Paul recently represented my 18 year old son in a cannabis related case. He struck exactly the right chord with my son from our first meeting by thoroughly explaining the process and the long term ramifications of the matter. He provided excellent ongoing guidance and communication. By following John Paul's advice and leveraging his relationship with the local prosecutor, we were able to see the charges significantly reduced. Once the necessary time has past we will once again call on John Paul to have all records of this matter expunged.
- Criminal Defense client
Smart and Innovative
I endorse this lawyer. John Paul is dedicated to his clients. He is smart and innovative and it is always a pleasure to be working with him on any matter.
- John Schrock, Personal Injury Attorney, Plainfield, IL
Excellent Reputation
Attorney Ivec is an asset to our profession and to his community. Attorney Ivec has an excellent reputation, which he has earned through hard, successful work on behalf of his clients. I would not hesitate to refer clients to this attorney!
- Luke Thomas, Criminal Defense Attorney in Beardstown, IL
John Paul is a Good Lawyer
John Paul is a good lawyer. He got me what I needed in my case, he kept me informed and I would recommend him for anyone who is charged with a crime in Will County.
Well Done
JohnPaul Ivec has served as my personal attorney as well as the attorney for the non-profit organization that I have led. He has been knowledgeable, responsive, and has delivered results. He understands the world of non-profits and has handled our legal work with the sensitivity and discretion required. I would highly recommend him.
- John
Excellent Lawyer
Very professional and helpful throughout my case.
- JB
Impeccable Service!
My family and I, would like to thank John Paul Ivec, Attorney at Law for his impeccable service! The case was for criminal tresspass, but was prolonged for a year, due to our son not being able to attain fitness with his mental illness. Even with months in on that case, without hesitation, Mr. Ivec also agreed to represent our son with several ordiance violations. Mr. Ivec is a very smart and compassionate criminal law attorney who knows his stuff. He was able to get ALL cases dismissed with prejudice!!! He was always available on the phone/email and responded to our queries promptly. His fees were beyond reasonable and well worth it! Above all he is a great human being who genuinely cares for his clients, as he tirelessly fought for my son and offered him sound advice from beginning to end. We definitely found an excellent attorney with John Paul Ivec, Attorney at Law and would highly recommend his services!
- Trenee'
JohnPaul is One of the Great Ones
Very down to earth man. Pull's no punches..and knows his way around the court room. He make's you feel safe that he has your back!!!!! Thank you for all you and your firm have done for me.
- Mario C.
Extremely Satisfied
JohnPaul -- Very professional who kept me informed about my case. I found him to be very knowledgeable, courteous, and logical. He showed me both sides of what could happen depending on the avenue we chose to take. He always got back to me when I called and never made me feel I was a bother. His administrative secretary was also very pleasant and helpful. He took my case very seriously through every court date. I highly recommend him and commend him on how he handled a very difficult criminal case. His fees were fair and I never felt like I was being taken advantage of. A True Professional!
- Joe
Real Estate Closing
Mr. Ivec has handled several real estate transactions for me. He was very thorough and kept me informed on all pertinent information. I would highly recommend him.
- Real Estate Client
Without Reservation
On occasion my family and I have used JohnPaul's legal services. I was able to observe the respect he has from peers and others in the legal system. His execution of moral, sound, and unbiased decisions based on facts available is always in a calm and cheerful manner. He is strongly dedicated to the rule of law and possesses strong communication skills. My personal background may add emphasis to this recommendation of JohnPaul. I am a retired data processing manager of Sears, Roebuck as well as a retired member of IBM's executive field operations staff. I also served as a 1st Lieutenant in USAREUR in the post WWII occupation of Germany. In these positions I was required to evaluate and offer recommendations involving hundreds of subordinates, contemporaries and sometimes superiors. I have and will continue to recommend JohnPaul to others without reservation.



- Ron
Excellent Criminal Attorney!
John Paul is an extremely knowledgeable criminal attorney. My case was somewhat complex as it was happening concurrently with a high-conflict divorce. He helped me navigate through the entire mess with nothing less than my best interests in mind. I am ever so grateful for his time and effort...I wouldn't hesitate to recommend John Paul to anyone in need of an attorney.
- Anonymous
In Your Corner
JohnPaul is the lawyer you need in your corner, I would recommend him to anyone who needs representation by a lawyer.
- Thomas
Terrific Lawyer
I endorse this lawyer. I have known John Paul for over 5 years. As a prosecutor and a defense attorney. Terrific lawyer, gets good results for his clients.
- Bamidele Adelayo, Criminal Defense Attorney in Phoenix, AZ
Excellent Lawyer
JohnPaul is an excellent lawyer. Due to the circumstances of this case, thought there would be prison time. JohnPaul's experience and knowledge ended up getting me probation. I would highly recommend JohnPaul, and definitely use his service if needed in the future.
- Tom, a DUI client
Dependable Attorney
John Paul Ivec represented me in court and was very diligent, spent time and always followed up along with taking my calls. His office staff was polite and also very helpful. Not all attorneys work as hard as he does. I would highly recommend him.
- Anonymous
Great Lawyer!
My son made a bad choice that could have ended up with him being in deep trouble. JohnPaul was able to get him probation. As parents, we felt like we were listened to and understood. He made a bad situation bearable.....I would highly recommend him!
- Client
An EXCELLENT attorney!!!
I received a speeding ticket and a misunderstood theft charge as a result of an argument. I contacted Mr. Ivec to represent me in these matters. I informed him of the court date for the offenses I was charged with. The cases were in a different county than which he normally works in, he informed me that he had no problem being there to represent me. he also discussed the cases with me and informed me of all the possible outcomes and fines I might expect to see depending on the outcome. When I arrived at court Mr. Ivec was there to meet me, he discussed the case once again with me, and then proceeded to discuss the matter with the prosecuting attorney. I was very pleased with the professionalism and the timely manner in which everything was handled! He was able to get the theft charge dismissed and the speeding ticket handled in a manner that was VERY affordable to me! I was in and out of court very quickly and was kept well informed of every aspect of what was transpiring. I am EXTREMELY pleased with Mr. Ivec's performance and professionalism! In my opinion there is no better attorney to be had, he will go above and beyond for his clients and treats every clients case and client with the utmost respect. I , hopefully will never need to hire an attorney again, but if I do there is and always will be only one for me! Mr. John Ivec! I would and will highly recommend him to anyone I run across that is in need of representation for any legal matters!
- Richard
Knows the law and genuinely cares about his clients.
John Paul and I worked together as prosecutors. He's a great guy who knows the law and genuinely cares about his clients.
- Douglas Deboer, Criminal Defense Attorney in Joliet, IL
Great Service, Great Results
JohnPaul has handled several legal needs including personal, business and non-profit issues I have been involved with. He has been very easy to work with and has always provided professional and thorough service. If you need legal representation, don't hesitate to call JohnPaul.
- Jim
Well Prepared and Aggressive
I endorse this lawyer. I have known John Paul for several years. He is always well prepared and aggressive in defending his clients against the state.
- Jack Zaremba, Criminal Defense Attorney in Joliet, IL
Mr. Ivec Helped me expunge my arrest record
JohnPaul helped me expunge my arrest record. He filed the necessary paperwork and appeared in court on my behalf. The process took some time, but he kept me informed of the status. My arrest has been expunged and I have a clear record once again.
- William
Quality Guy
Despite being a Michigan fan, he is a quality guy. Doesn't talk much, but he gets the job done. He does not sugar coat anything. Not only do I respect him, but he seems to have the judges' and the prosecutions' respect as well. Hire him - he will do the best he can do.
- Greg
Grateful
Very professional and very honest. Told me some things that maybe I didn't want to even hear, but needed to hear in order to help me get through a very trying time.
- A Domestic Violence Client
Excellent Lawyer
John is a very professional, thorough, responsible and honest lawyer. He stays on top of everything and does his best to shoot for the best possible outcome for a very reasonable price. He doesn't put any faces on for you, like some lawyers who try to charm you with a false sense of security may do, and sticks to the point of the matter. This, however, does not mean that he is lacking a caring personality or a nice sense of humor. Most importantly, he succeeded in helping me avoid a conviction on my record. I highly recommend him.
- Dave
Deeply Experienced
John Paul is the first guy I call when I need a second opinion on a legal matter, and he'd be the first guy I'd call if I needed criminal representation. Bright, deliberate, and deeply experienced.
- Corey Mathers, in Plainfield, IL
Well Respected by Judges
John Paul and I have worked on a several matters together. He is always well prepared and works diligently on behalf of his client. He is someone who I have referred clients to when I am unavailable and am always confident that he will do an outstanding job and obtain the best possible result. He is a former prosecutor who is well respected by the judges. I highly recommend him.
- Steven Haney, Criminal Defense Attorney in Joliet, IL
Fast
Very knowledgeable, professional, and works FAST. Definitely recommend this guy.
- Ben
Down to Earth Lawyer
Very happy with the outcome of my case. So glad we choose him to represent us.
- JJR
Looked out for my best interest
Very pleasant and understanding . Super nice guy . He handled my case very professionally and made sure I understood what was going on the entire time . He looked out for my best interest and in ending result my case was dismissed !! In conclusion , I am very happy I asked him to represent me.
- Janiece
Amazing Lawyer
I was looking for an amazing lawyer for my dad because he had got into some trouble and we needed a good lawyer who cared and John Paul was amazing he got my dad through all of this he helped us through all of this. If it were not for John Paul, my dad would be sitting in jail right now. I cannot express my appreciation for this man enough.
- Amber
Great Experience on a Short Sale Purchase
John Paul was extremely knowledgeable and helpful in getting us through all the aspects of our short sale purchase. He was extremely proactive as the process took longer than the contract offer outlined. He was very detailed and thorough at closing and ensured the HUD closing statement was accurate down to the last penny. If you are looking for a trust worthy and experienced person to assist you with your closing, John Paul is the person to choose.
- Tom, a Real Estate client
Highly Recommend!
John Paul Helped me with a traffic violation he was able to get my charges reduced to a non moving violation so it would not hurt my driving record and was able to get my fees reduced. John Paul is very knowledgeable in everything he does and is honest and upfront with you so you know what you could be facing.
- A Transportation Client
Great Attorney
I Can't thank Mr. Ivec enough. He basically saved my future. He is very professional, knowledgeable, and a skilled lawyer. He really does care about his clients.
- Ryan, a criminal defense client
Exceptional
Our daughter hit a little bump in the road and got in a little bit of trouble with the law because an ex-boyfriend pushed her to her limits. John Paul handled her OP really well. We are thankful that she was granted the OP. He also handled her city ordinance violation well. We are thankful for the outcome of the city violations. Thank you, John Paul, for being an honest and upfront lawyer.
- Karen
Highly Recommended
John knew exactly what to do and he kept my husband out of jail. Affordable, open availability, and very good at what he does.
- Sarah
DUI Representation
John Paul represented my son on two DUI charges. He spent a lot of time working with the prosecutor to develop an equitable outcome. He kept us informed of the court proceedings throughout the course of the trial. He spent time researching alternative solutions to avoid prison time for my son. This resulted in my son staying in a residential treatment facility in lieu of spending time in jail.
- Ron
Professional
He did everything I could have asked of him. I am more than pleased in who I chooses to represent me and now I have no more court dates. Thanks a lot John Paul Ivec!
- Elliot
Professional and Knowledgeable
Mr. John Paul Ivec was very professional and knowledgeable in regards to my case. It was completed in a very timely manner, and his direction was welcoming. He was personable and polite. I would recommend him to my family and friends.
- Diane
Sale of Home
Mr. Ivec was very kind and knowledgeable. During the sale of our home, I didn't wonder what the next step was, it was always taken care of and we were kept well informed in a timely matter.
- John and Rhonda
Kept me driving so I can keep my job!
Affordable, knowledgeable and made the process pretty easy. Never made me feel like I was bothering him (although I needed a lot of handholding). Thought for sure I was going to lose my license but worked out a great deal so I can keep my job. Can't recommend more.
- James, a DUI client
Diligent and Well Prepared
I have worked with John Paul Ivec for over 10 years now. He is one of the most diligent and well prepared lawyers that I have ever known. His knowledge and expertise in the law is second to none. I highly endorse John Paul.
- Eugene Fimbianti, DUI / DWI Attorney in Joliet, IL
Fights for best possible outcome
I have worked with John on many related cases where we represented different parties and can personally attest that he fights for the best possible outcome in every case he handles.
- Anthony Tomkiewicz, Criminal Defense Attorney, in Joliet, IL